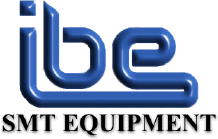 IBE SMT Equipment is your source for Quality Reconditioned Fuji SMT Equipment. We inventory a full range of Fuji SMT placement equipment, feeders and spare parts. Our website is always Up-To-Date with our current inventory! Click the View Our Inventory link below to browse our complete inventory!



---
We also Buy & Sell Fuji SMT Equipment and Spare Parts

Chipshooters
Fuji XP 142/143 - Fuji NXT -Fuji CP 4 - Fuji CP 6 - Fuji CP 7 - Fuji CP 8

Flexible Placement Equipment
Fuji XP 242/243 - Fuji NXT - Fuji IP III (IP 3) - Fuji QP 341 - Fuji QP 351 - Fuji QP 242

Screen Printers
Fuji GSP II and III - Fuji GP 641 - Fuji GP 551

Glue Dispensers
Fuji GL II or GL 2 - Fuji GL V or GL 5 - Fuji GL 541 or GL 541E

Fuji SMT Feeders
We inventory feeders for the placement systems listed above. Visit www.ibesmt.com to view our current feeder inventory!
Spare Parts
New and Used Parts In Stock (Motors - Amplifiers - VME Boards - Power Supplies - Head Shafts and much more)
---
IBE SMT Equipment
318 Corporate Woods Drive
Magnolia, TX 77354
Phone: 281-259-9660
Toll Free: 800-353-6942
E-mail: sales@ibesmt.com
www.ibesmt.com


IBE's Magnolia, Texas Showroom
Fuji SMT Equipment - Feeders - Spare Parts
IBE SMT Equipment, LLC - Copyright 2008